Navigation:
Home
> Whitetail Deer Hunts in Nebraska & South Dakota
Whitetail Deer Hunts in Nebraska & South Dakota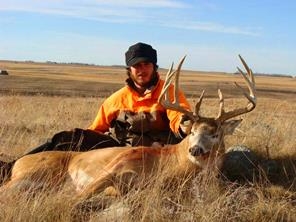 First Class Trophy Whitetails
Many 150 class deer have been harvested on the property, through Holt Creek Hunts, we provide access to those amazing whitetails to clients every year. Holt Creek Hunts can provide you with an opportunity to get the trophy whitetail of a lifetime. A private cabin on site allows you to literally step off the porch and into the woods to begin your whitetail hunting in Nebraska. One trip to the property is sure to give you assurance that this is the place to take your next trophy whitetail deer. Visit Wagon Wheel Ranch and Holt Creek Hunts for a chance at a once in a lifetime deer hunt! Or if you are looking to fill out your Merriam Turkey hunt in Nebraska, give us a call!
Contact Info: Greg Richey 308.293.1394 or Michael Richey 605.830.5551
Archery - Muzzleloader - Rifle Trophy Deer Hunting
We have many opportunities at trophy whitetails here at Holt Creek Hunts in Nebraska. No matter the style of hunting you prefer, we can accommodate the hunt. Each year we watch and scout for the trophy whitetails, giving you first opportunities at those. While we have a strong deer management practice here at Holt Creek Hunts, we also want to make sure your deer hunt is a successful one. Take a peek at our trophy deer and turkey hunts in our photo gallery.