Gun Dog Training for South Dakota Pheasant Hunting
The name of our kennel is Rock Ridge Retriever Kennel located on the Wagon Wheel Ranch; we have been providing the professional training of gun dogs for 25 years. The kennel has access to over 4,800 acres of prime hunting habitat as well as a number of ponds and lakes.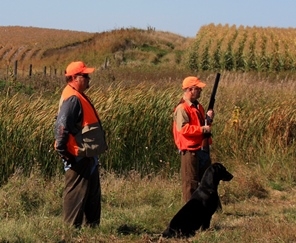 Maximize Your Retriever's Potential
Our motto is "to maximize your dog's potential". We use positive reinforcement training techniques and have turned out hundreds of successful hunting dogs over the years. During your dog's stay at the kennel they will be exposed to birds and various cover types on a daily basis. Your dog will learn all the basic obedience commands, whistle training, force fetch (for solid delivery to hand of birds, dummies, etc.), collar conditioning (only as reinforcement of already known commands), and field experience. The field experience consists of flushing and retrieving live birds to simulate a typical day in the field. We also offer waterfowl training which works with decoy, blind and boat training.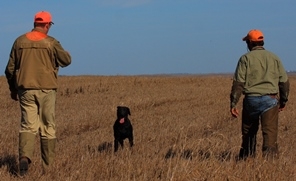 Building A Bond With Your Dog
You and your dog will work together at the end of the program in order to build the two of you into a new, successful hunting team. All the dog kennels are indoors for safety and security. Your dog will have his/her own private kennel run and is allowed into our fenced in airing yards three times a day for maximum cleanliness. Your dog will follow the same training course that many of the hunting lodges in the state have had their dogs trained under. Rock Ridge Retriever Kennel was built on knowledge and experience which make it a premier gun dog training kennel not only in South Dakota but also the nation.